Car Modifications

Suzuki Baleno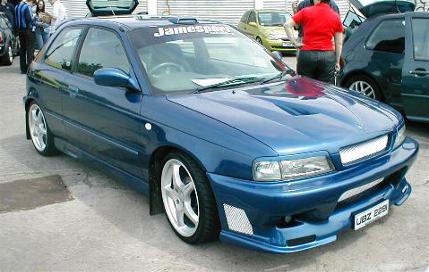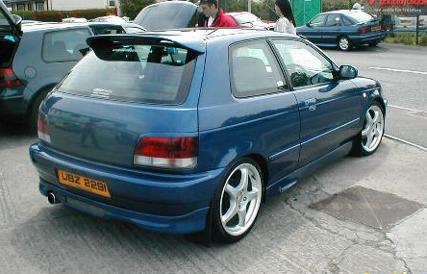 Modifications: To this Baleno, Eddie added an F50 Bonnet Vent, a Subaru Grill and a Jamesport front bumper.
The boot lid was flushed and Volkswagon side skirts with custom vents were added.

At a later stage the front bumper was changed to a Seat Leon bumper. It was cut and modified in three places. Astra sides skirts were also added.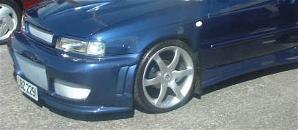 Honda Civic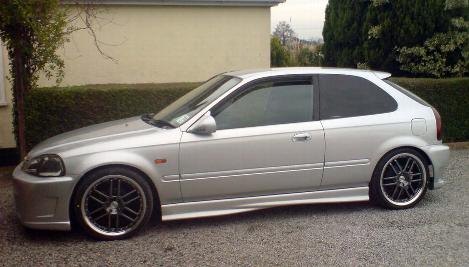 On this Civic, Eddie sprayed and fitted the body kit aswell as colour coding it. DTM mirrors were added and flushed to the door.

The bonnet was also sprayed and both the front and back lights tinted.

Ford Fiesta
(Black Betty)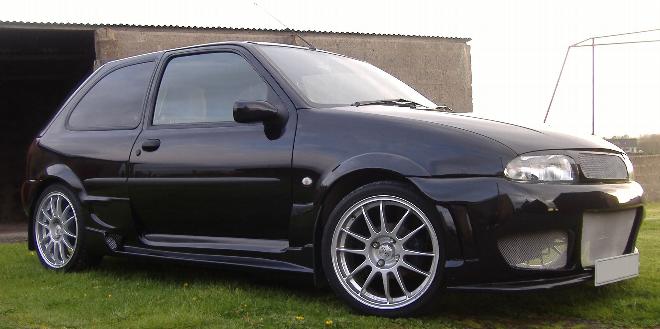 Modifications by Eddie on Fiesta:

Seat Leon front bumper - cut and modified in four places to suit the car.




Honda Civic side skirts also cut and modified to fit the car.




Ford Fiesta Mk4 rear add-on, and Mk4 arches fitted and painted. Grill Modification, headlight eyebrows added and rear lights tinted.




The windows were also tinted and the interior colour coded.
Vauxhall Corsa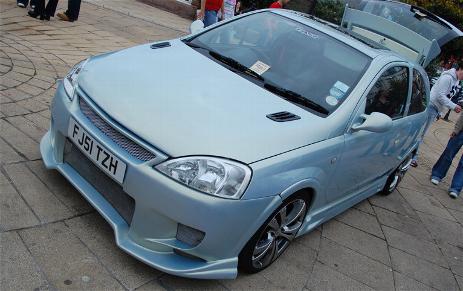 On this Corsa Eddie repaired both the front and back bumpers. He also resprayed the bodykit and fitted the front fogs lights.


Toyota Starlet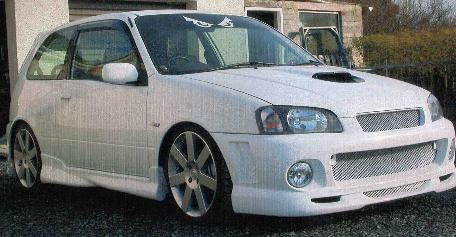 Modifications: The front bumper of this Starlet was modified using seat leon vents, a suzuki baleno grill and corsa c front add-on. The rear add-on was astra G turned upside down. The side skirts are unknown but modified on top of factory side skirts. The door locks were removed and the boot lid flushed. The wiper was also removed from the back.
Vauxhall Corsa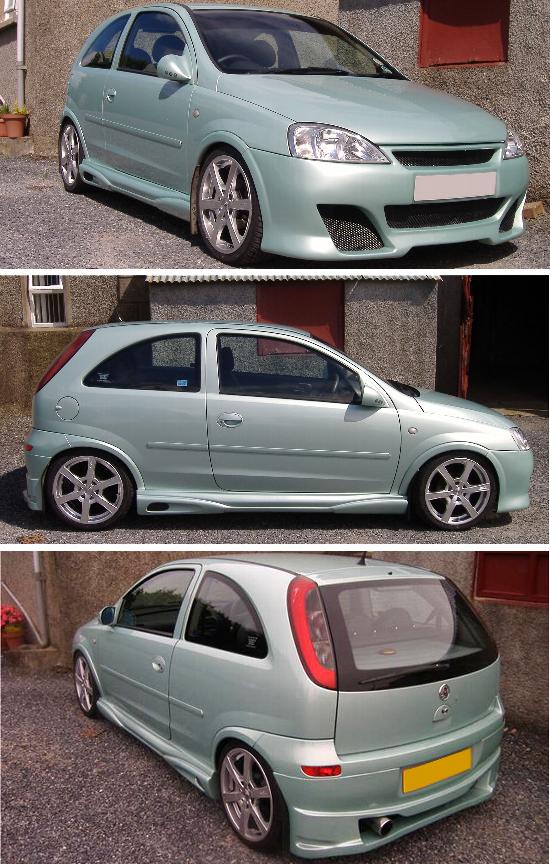 Eddie fitted and painted the Corsa front bumper. A Corsa rear add-on was fitted and painted. Also prepared and painted were Peugeot Ecosse side skirts.

Eddie Colour Coded the DTM mirrors with indicators and added window tint and a sunstrip to this car.

Honda Civic (2004)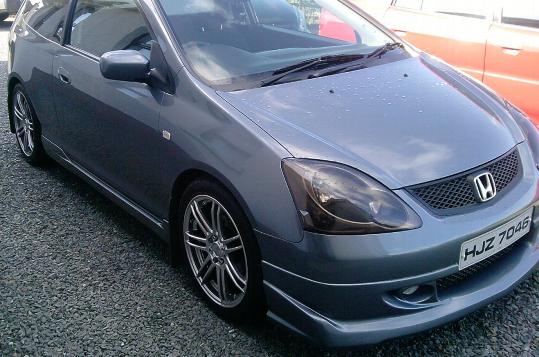 Modifications: A Mugen front add-on was applied to the original bumper. Eddie added an Audi A4 rear add-on and cut and modified it to fit this Civic.
The windows were tinted and so were the front lights. A sunstrip was also added.

Seat Leon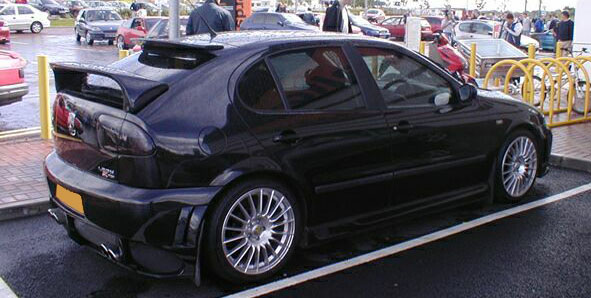 The bodykit on this Seat Leon is thought to be the first Leon kit brought into the country. To the rear of the car Eddie added a ford focus window spoiler. The side skirts were Ford Focus side skirts. Wide Arches were also added and the back two doors were de-handled at a later stage.

One-off Modification: Lambo doors and a Diablo bonnet vent

Mini Cooper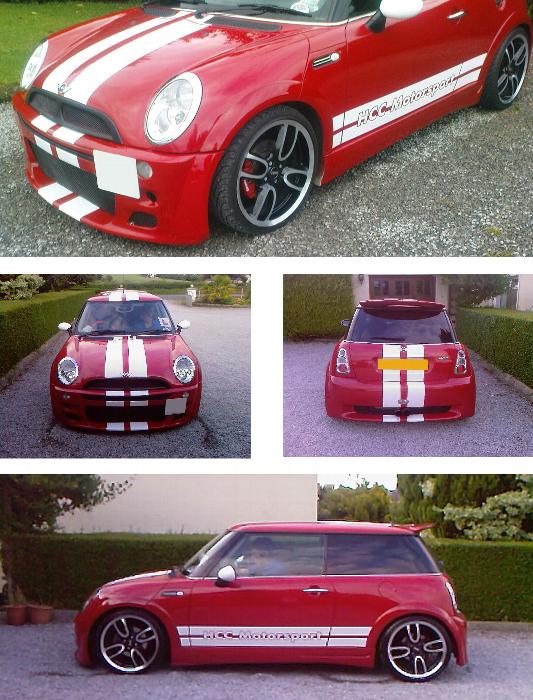 Body work carried out: Eddie resprayed both the front and back bumpers on this Mini Cooper. He also resprayed the side skirts, spoiler and four wheel arches.

The back lights were also tinted.
Mitsubushi Evo 4 GSR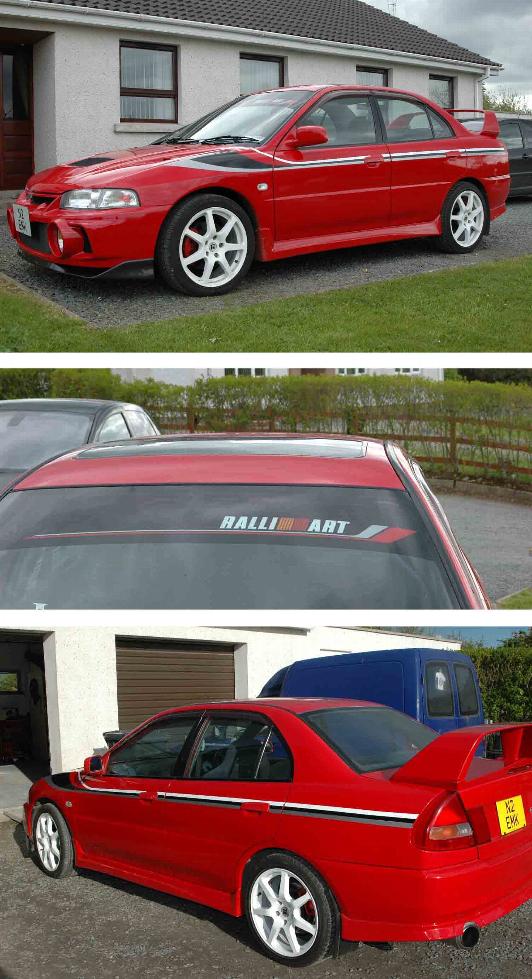 Work carried out: Fitting of TME Stripes, which run along the side of the car to slightly over the bonnet.
Sunstrip: Ralli Art writing provided with the sunstrip made to fit by Eddie.
Exhaust Filler piece: Normally Evo 4s don't have a filler piece, but Eddie custom made this in conjuction with Jamesport and these filler pieces are now for sale.

* Bodykits can be ordered through Eddie or Jamesport and are fitted and painted by Eddies Bodyshop.